Ready to try Kanboard? Get started in 60 seconds or less!
Invented in the 1940s by Toyota engineer Taiichi Ohno, the kanban board is a popular agile project management tool that allows individuals and teams to visualize their progress on tasks to maximize work efficiency.
The board's columns represent each workflow stage - often To Do, Doing, and Done - and cards placed on the boards represent tasks and projects as they progress to completion. While some companies have been known to point a camera at a wall of sticky notes as a way to syndicate a kanban board across a distributed team or even as employees to climb a ladder to move issues from one column to the next, a digital solution means everyone can participate regardless of physical location (or fear of heights).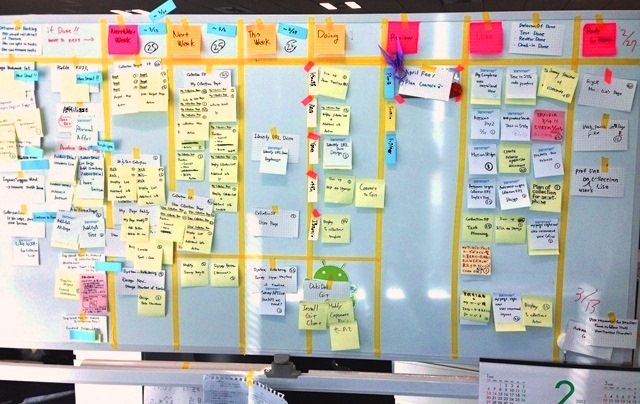 Today, most project management software offers a way to visualize and manage tasks in multiple ways, one of which is a kanban view. Differences between applications means that finding the one that's the best fit can be a challenge, but also that there are options for teams with different priorities and even individuals working solo.
Let's dive into two popular kanban applications and determine which is better for your next project: Trello or Kanboard?
---
Trello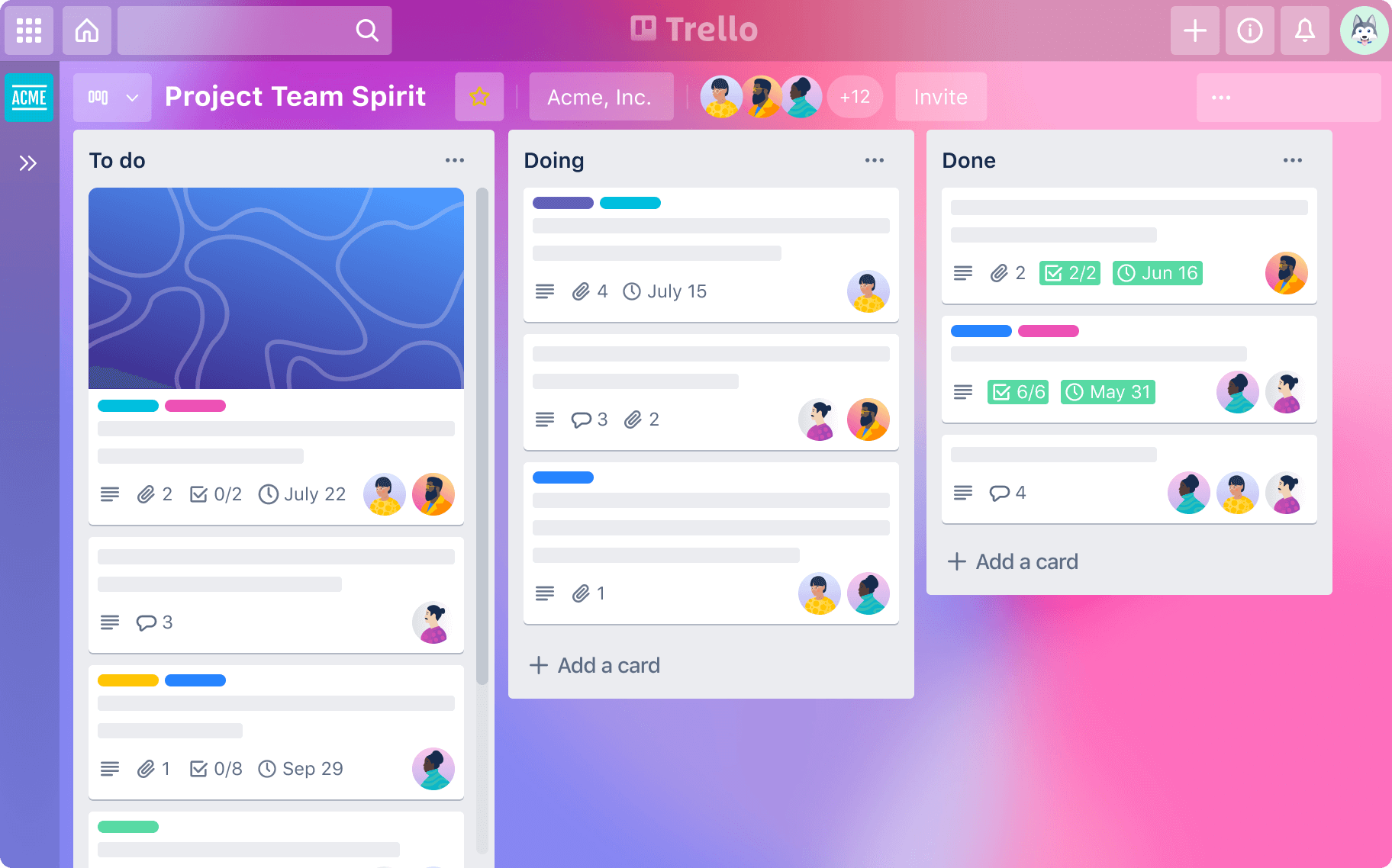 Thanks to Trello's modern interface and an acquisition by enterprise project management software giant Atlassian in 2019, Trello has become a very popular kanban-only application. It offers a to-do list, familiar (and customizable) To Do, Doing, and Done columns, and robust multi-user management tools aimed at large teams.
Kanboard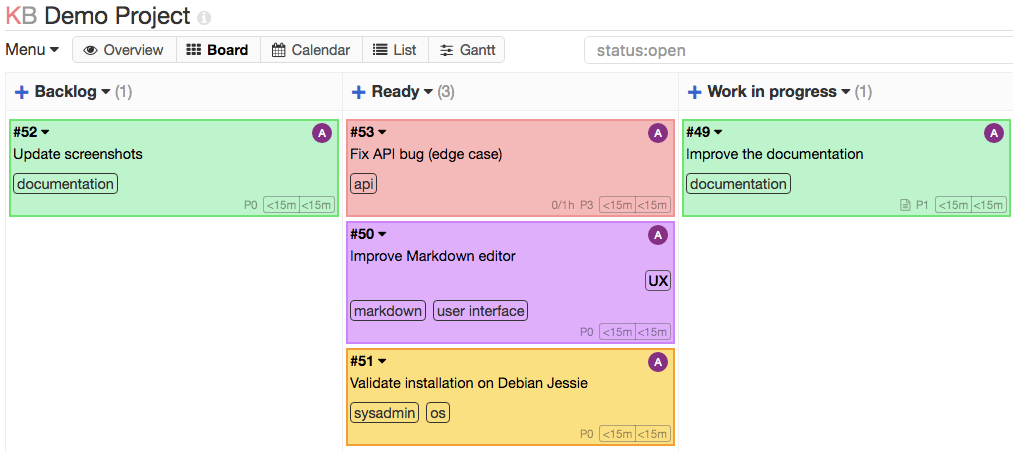 Kanboard is a minimalist project management tool aimed at those who abhor software bloat (or software made by big tech companies), as well as those who are looking for an application that can be self-hosted. Its intentionally sparse interface aims to keep teams focused on moving tasks through the pipeline, while still offering lots of options for workflow customization and a pool of community-created plugins that add extra features à la carte.
Comparing Trello and Kanboard
Feature Comparison
| | Trello | Kanboard |
| --- | --- | --- |
| Format | Kanban Board | Kanban Board |
| Style | Slick and modern | Minimalist and functional |
| Usability | Polished, with some differences between web and mobile | Simple, with identical behavior on web and mobile |
| Cost | Freemium | Free, accepts donations |
| Flexibility | Limited developer API | Open-source |
| Privacy and Security | Data resides on Trello servers; company-managed security updates | Data resides on user servers; community-managed security updates |
| Support | Company-provided, with premium access for paid tier users | Community-provided |
Format
Both Trello and Kanboard allow tasks be created and managed on a single screen. The Trello default columns of To Do, Doing, Done foster a perception that every project is as easy as 1-2-3, while the Kanboard defaults of Backlog, Ready, Work in Progress, and Done give off the vibe that it's time to roll up sleeves and get to work. In either case - the number, order, and names of columns are fully customizable.
Style
Both Trello and Kanboard allow teams to visualize their progress at a glance. While Trello's interface is sleek and modern, Kanban's minimalist look puts the emphasis on functionality and flexibility.
Usability
Both applications support drag and drop of tasks between columns. For more complicated projects, tasks can be broken down into subtasks. Task owners can add comments, change the page color and due date. Businesses can also automate their workflow to avoid creating the same tasks over and over, manually.
Trello's mobile-first approach means that it works great on all sorts of devices. Standalone apps exist for both iOS and Android. The app has intuitive navigation that aims to keep all the important features at users' fingertips, though accessing the app at all now requires an Atlassian account. Users with older accounts will need to go through a clunky account transfer process.
Kanboard can be accessed from any browser without the need to download extra apps. This is another area where Kanboard's simplicity proves an asset - it renders well on mobile devices and tablets while consuming minimal computing resources.
An internet connection is required for either app to retrieve data or save updates. Both apps are available in dozens of languages.
Cost
Trello's freemium model means that some features like using unlimited boards and access to custom issue fields are gated behind a pay-per-user paywall. Accessing the security features needed by a growing team requires upgrading to an even more expensive pricing tier. Trello subscriptions are charged per user, per month, and can add up quickly for teams where lots of people need access to view reports and dashboards.
As an always free, open-source application, Kanboard doesn't inflict any frustrating paywalled features or per-seat costs for growing teams. Because of its lightweight design, Kanboard also doesn't need a lot of expensive infrastructure to run. It can be set up in a public cloud like AWS for a few dollars per month (regardless of the number of users). For individuals or hobby projects, it can even be run for free in perpetuity on a home server or RaspberryPi.
💡
If you think Kanboard is an interesting app, you can [try it free for a week on Clovyr Hosting]. Love it? Keep the app running with Clovyr for a transparent, flat monthly fee or port it to your own cloud account for free.
Flexibility
Trello offers an API for developers which can allow some types of custom integrations to be built. Because the application code is proprietary and user data all lives on Trello's servers, companies relying on Trello APIs need to trust that Trello will continue to support the APIs used in their custom tools, in order to access their data.
Kanboard is extensible via plugins, which can be installed individually to add only the specific functionality desired. Plugins can be created for private use or shared with the community.
Kanboard is an open-source project distributed under the permissive MIT License, which gives users express permission to reuse its code for any purpose. This means that anyone, including commercial businesses, can modify the code however they would like to build the tool that works for their specific situation. Modifications do not need to be shared back to the community, though submitting a new feature back to the project is a great way to get additional feedback and ensure long term support for the functionality.
Privacy and Security
All SaaS applications — like Trello, GitHub, Asana, and others — require you to store your team's data on their servers. If your project contains sensitive data or you don't want to take a chance that a data breach that affects a vendor might mean your private data ends up in unintended hands, you may want to consider a self-hosted solution instead.
As a self-hosted application, Kanboard can be run on infrastructure that only the team using the application can access, whether that's a server on-premises at a business or an account in a public cloud like Digital Ocean or Azure. Running Kanboard in your own account means that your data is always yours, and won't ever be sold to advertisers or become collateral damage in a vendor's data breach.
💡
With self-hosted applications, updating the software when new versions are released is the responsibility of the team using the application. Clovyr makes it painless to stay up-to-date by automatically updating your self-hosted applications.
Support
Trello has a dedicated customer support team to field inquiries, as well as FAQs and a forum accessible via their website. The pricier paid plans also include access to priority support.
Kanban offers support via community forums where users answer each other's questions and developers of the application often chime in directly.
Which is right for me?
Trello
Great for you if you work in an enterprise or with a large team that has complex and demanding project management workflows. Trello is ideal for teams focusing more on task minutiae, like critical sub-stages and or intricate tracking. For example, a larger company with wide-ranging sales, marketing, or product development teams might need a system that can auto-update task lists if one department falls behind. Trello best handles these sweeping, more tangled issues.
Pass if you're not comfortable storing sensitive project data on a vendor's servers
Kanboard
Great for you if you work with people who prioritize efficiency and focus over bells and whistles. Kanboard is excellent for those who want to avoid getting bogged down by the overload of available features on some project management platforms (like Trello). If you're most interested in a high-level overview of progress–e.g., seeing whetherif a particular task is in progress vs. complete–Kanboard is a great option. This could look like a small team of copywriters keeping track of article status for a content firm, or a burgeoning entrepreneur giving order to the swirling to-do list in their head. Keeping tasks straightforward and digestible is where Kanboard excels.
Pass if you expect new features to appear regularly.
💡
Historically, the benefits of self-hosted software like Kanboard have been limited to more tech-savvy teams. After all, someone needs to set up the server for the application, install it, and manage updates over time. That's no longer the case, now that Clovyr can setup and manage apps like Kanboard lightning fast, no matter your or your team's technical skill level.

If you think Kanboard is an interesting app, you can [try it right now with one click]. Love it? Keep the app running with Clovyr for a transparent, flat monthly fee or port it to your own cloud account for free.
---
About Clovyr
We believe a few, large tech companies have too much power and many tech startups make us pay for the convenience they offer with our private information. But it doesn't have to be that way, and we've never given up on the power of the internet as a force for good.
Clovyr is dedicated to building friendly, flexible tools that bring the usability of modern applications to decentralized ones. We prioritize privacy, security, and choice, without compromising convenience and user experience.