General
Getting Started Using Clovyr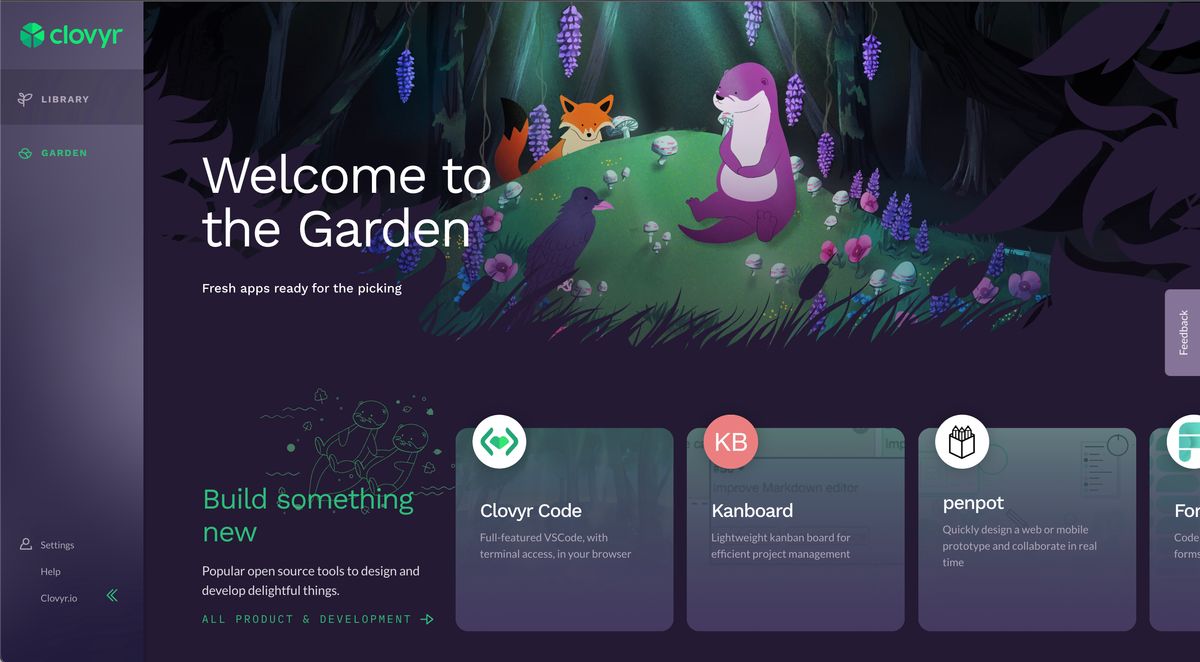 Your Guide to a Seamless Experience in the Garden
Introduction
Welcome to the Garden, the browser-based app store designed to make self-hosting and app management easier than ever. Whether you're an individual starting a new project, a business owner seeking efficient app solutions, or a developer looking to create and deploy apps, the Clovyr Garden is here to empower you. This guide will walk you through the process of getting started with Clovyr and help you make the most of this innovative browser-based app marketplace.
Section 1: Exploring the Clovyr Garden
Clovyr Garden offers a diverse range of curated collections that cater to various needs and interests. Here are a few collections you can explore:
Product & Development: Discover a collection of apps specifically designed to help you design and develop delightful things.
Fediverse: Find decentralized social media apps that provide alternatives to traditional, data-hungry platforms.
Crypto: Explore apps for all your crypto-related needs, from running nodes to developing expert-level applications and everything in between.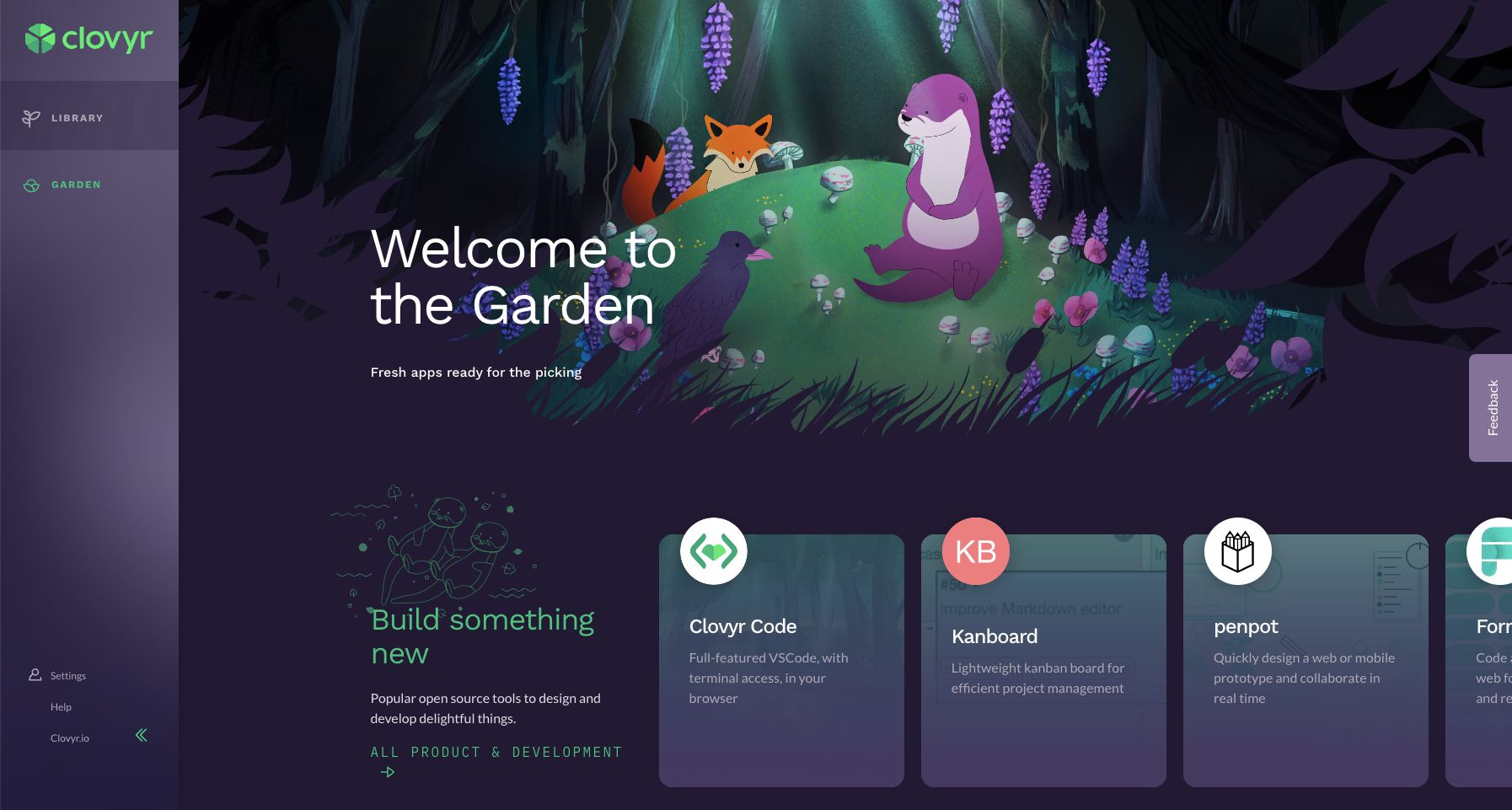 Section 2: Launching Apps on Clovyr
Launching apps on Clovyr Garden is quick and hassle-free. You have two options for hosting:
Clovyr Hosting: With Clovyr Hosting, you can launch an app with just a few clicks, eliminating the need for complex setups. Simply follow the Launch Wizard, and your app will be up and running smoothly in seconds.
Self-hosting: If you prefer to use your own hosting provider like Digital Ocean, Linode, or AWS, Clovyr makes it easy to link your app to your preferred provider. The Launch Wizard will guide you through the process and help you configure the setup seamlessly.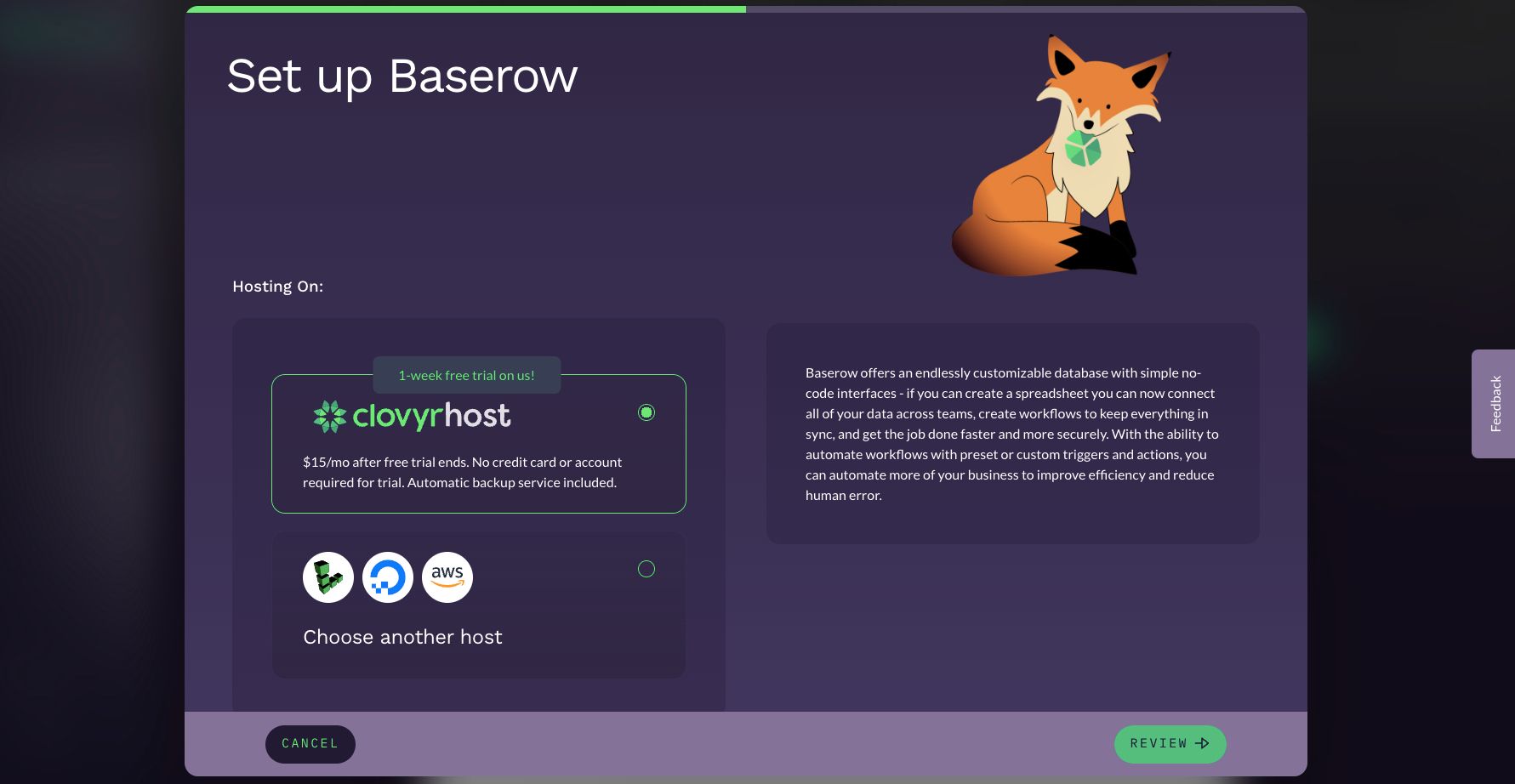 Section 3: Benefits of a Browser-based Marketplace
As a browser-based app marketplace, Clovyr Garden offers several advantages:
Accessibility: The browser-based nature of Clovyr Garden means you can access your apps from anywhere in the world with an internet connection. No more limitations based on the device or operating system you're using, and no more losing data if a device is lost or broken– simply access your account from a new device, and be sure to have your Recovery Kit handy, you'll need your Secret Key.
No System Requirements: Since Clovyr Garden is browser-based, there are no specific system requirements. You can access and manage your apps regardless of the device or operating system you're using.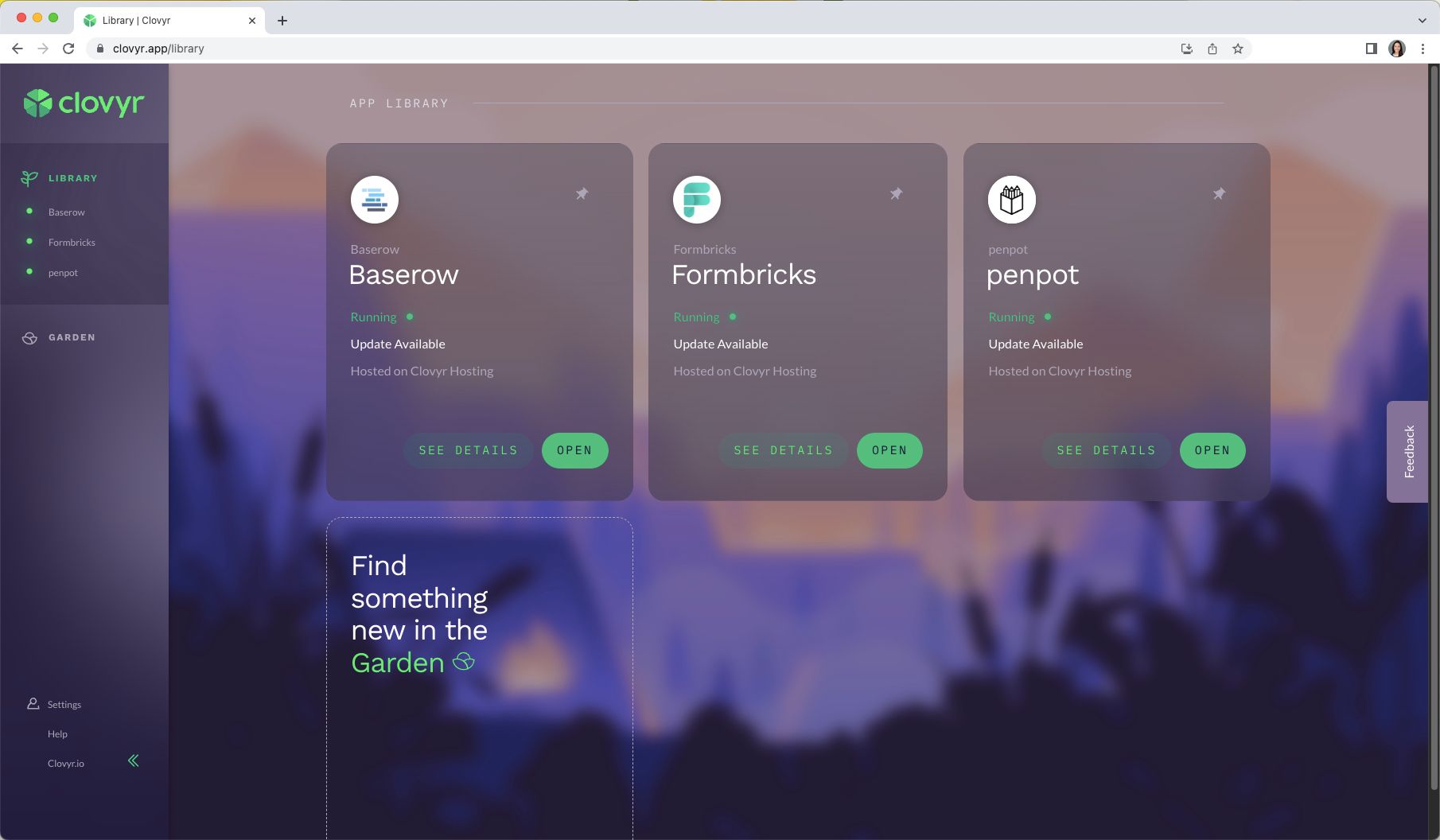 Section 4: Pricing and Subscription Options
Clovyr offers flexible pricing options to suit your needs. Here's what you should know:
Clovyr Hosting: If you choose Clovyr Hosting, the pricing for each app is clearly outlined on the app page. Prices range from $9-$60 per month, depending on the app. Please note that these prices are subject to change.
Self-hosting: When you bring your own host, you can continue using the apps for free. However, if you want to add an extra layer of security, Clovyr offers a secure backup and recovery service for $5 per app per month.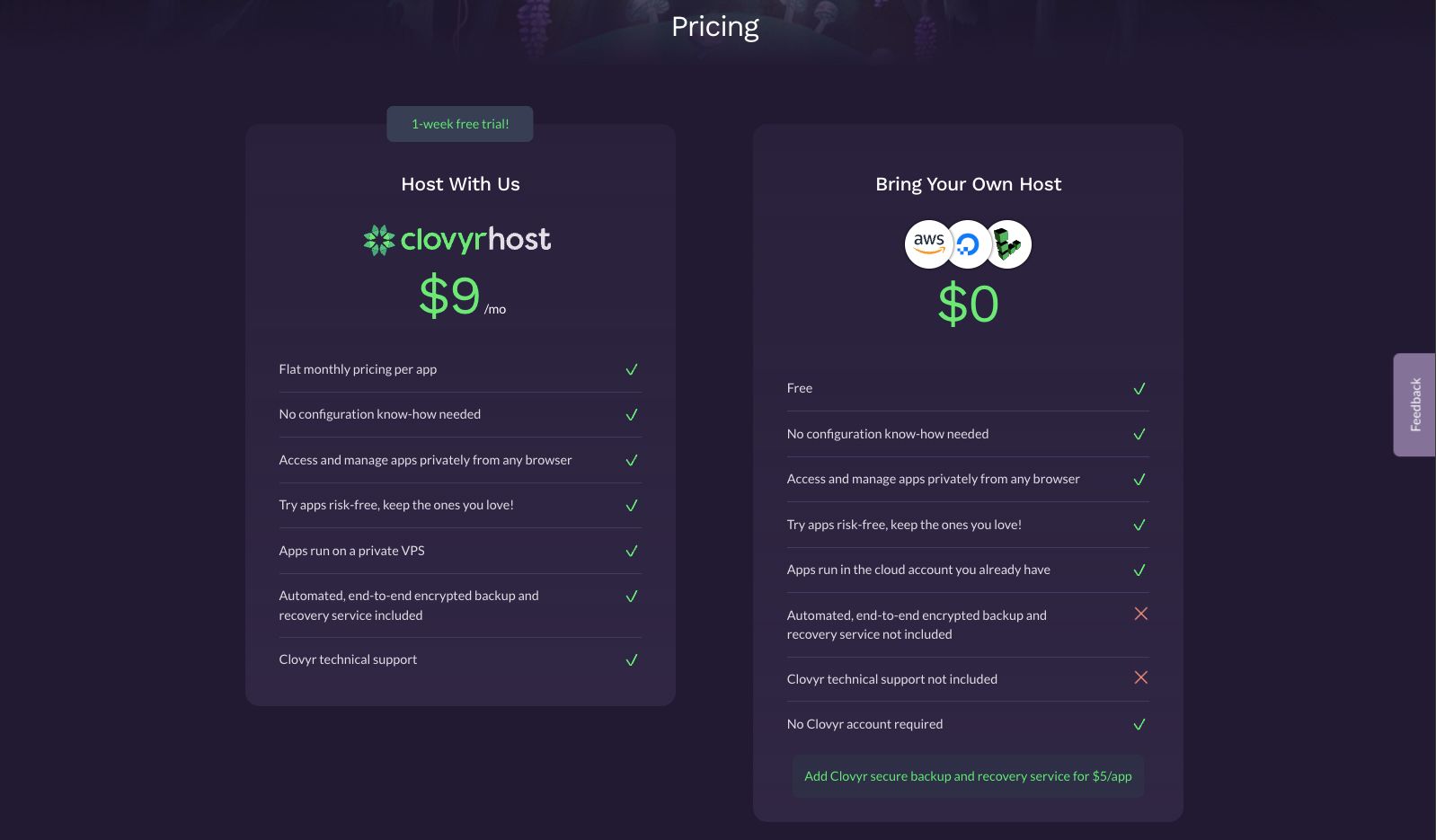 Section 5: Customer Support and Community Resources
At Clovyr, we strive to provide excellent support to our users. Here's how you can seek assistance and find helpful resources:
Customer Support: If you have any questions or encounter issues, you can visit the Clovyr Help Docs for general guidance. If any further assistance is required, please email us at

[email protected]

, and our dedicated support team will be happy to help you.
Help Docs: Our Help Docs cover various topics, including account creation, app management, and more. You can access these detailed resources by visiting the Clovyr Help Docs.
Section 6: Providing Feedback and Requesting Features
Your feedback is invaluable! At Clovyr, we encourage users to share their thoughts, report bugs, and suggest new features. To contribute, you'll find a feedback box specifically designed for user suggestions which lives on the right hand side of the Garden. We appreciate your input and have a team of dedicated professionals who review and consider every submission.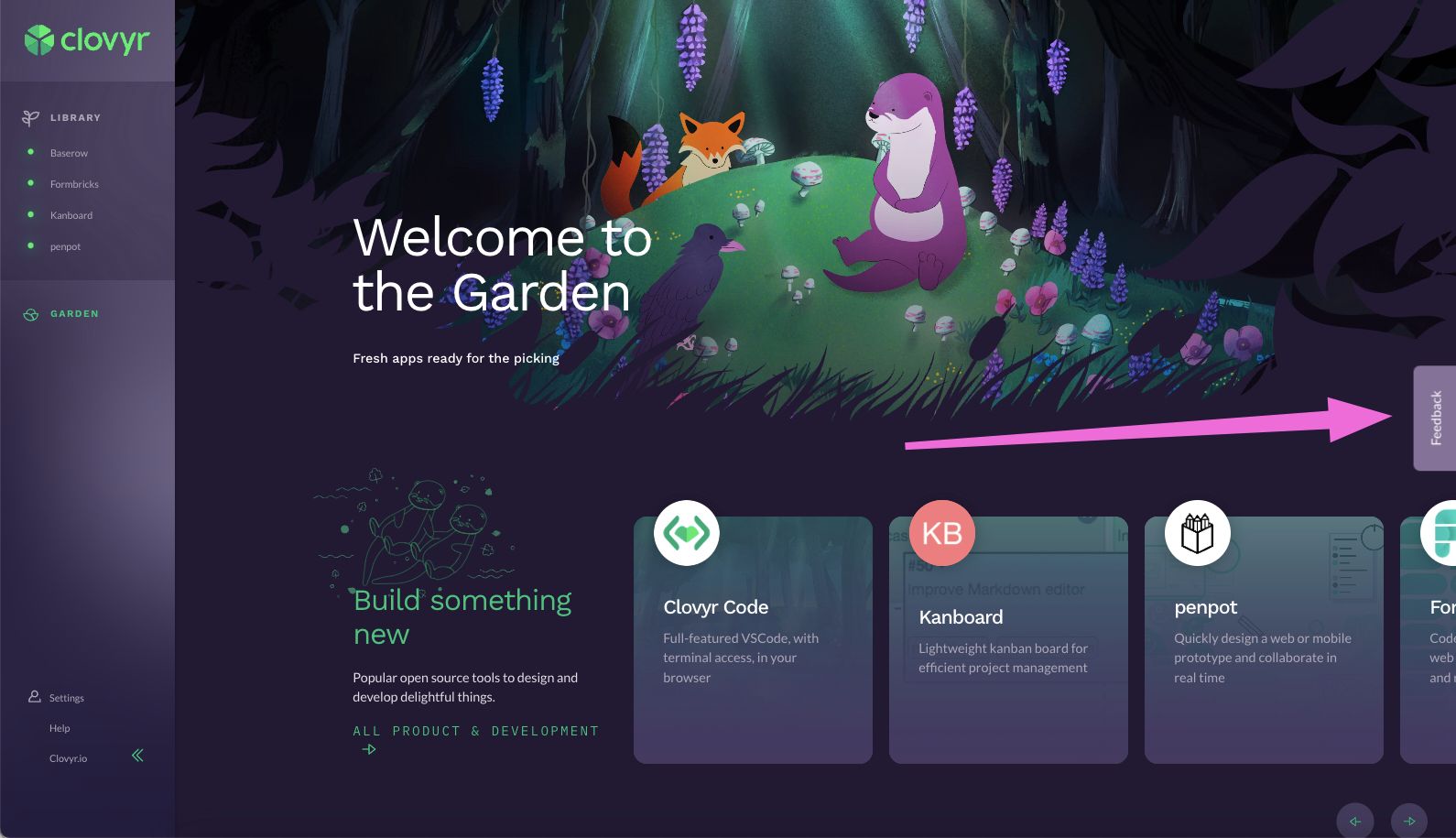 Section 7: Onboarding and Account Creation
Joining Clovyr Garden is a simple and straightforward process. To get started, you only need an email address. Visit this help doc for a step-by-step guide on creating your Clovyr Garden account.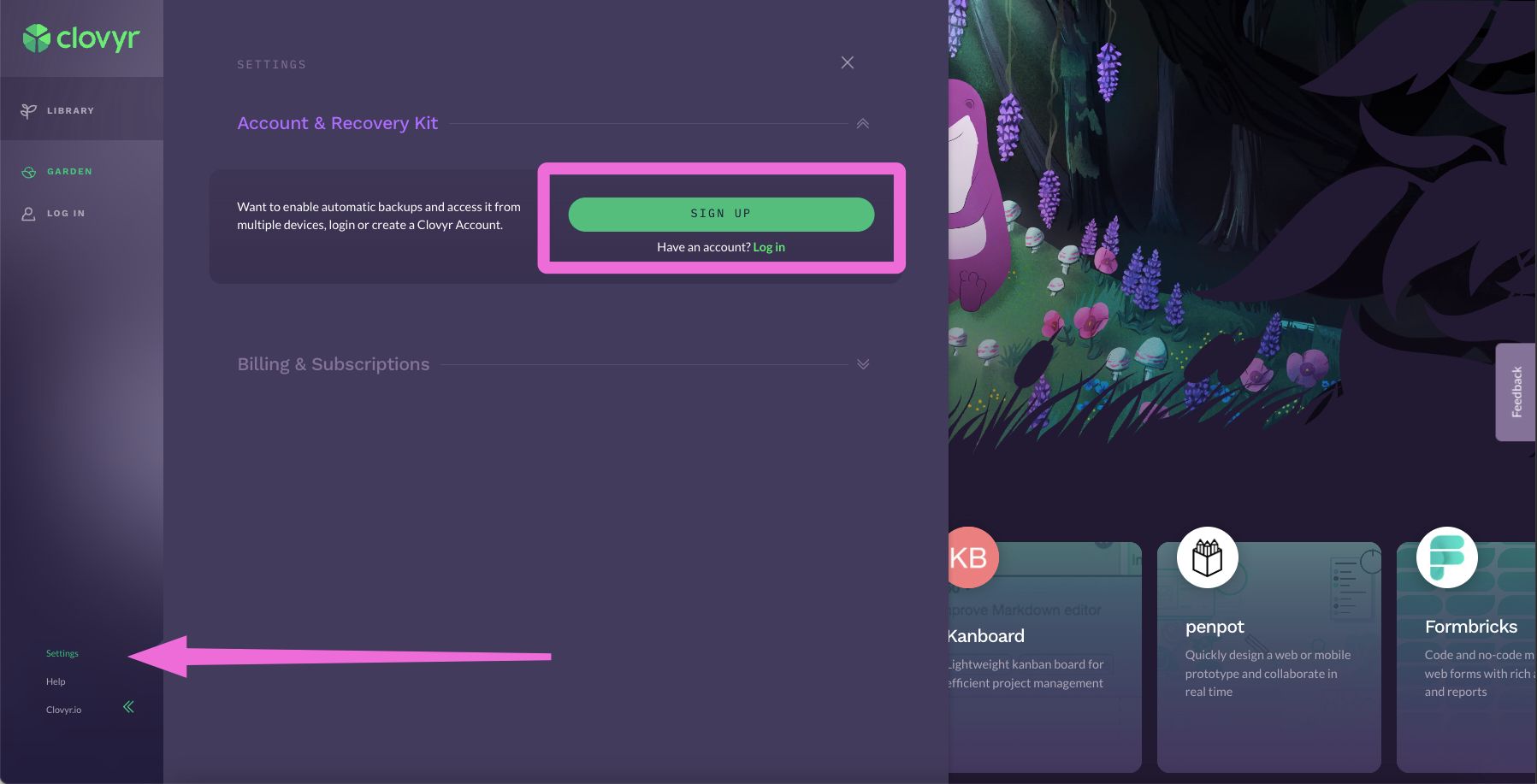 Section 8: Tips for New Users
As a new user on Clovyr Garden, here are some helpful tips to enhance your experience:
Try before Committing: Take advantage of the free trial period to test apps on Clovyr Hosting. This way, you can ensure self-hosting is the right fit for you before investing in external hosting providers.
Follow App-specific Instructions: Some apps may have specific instructions or configurations after launching. Any additional setup requirements will be on the app page after launching.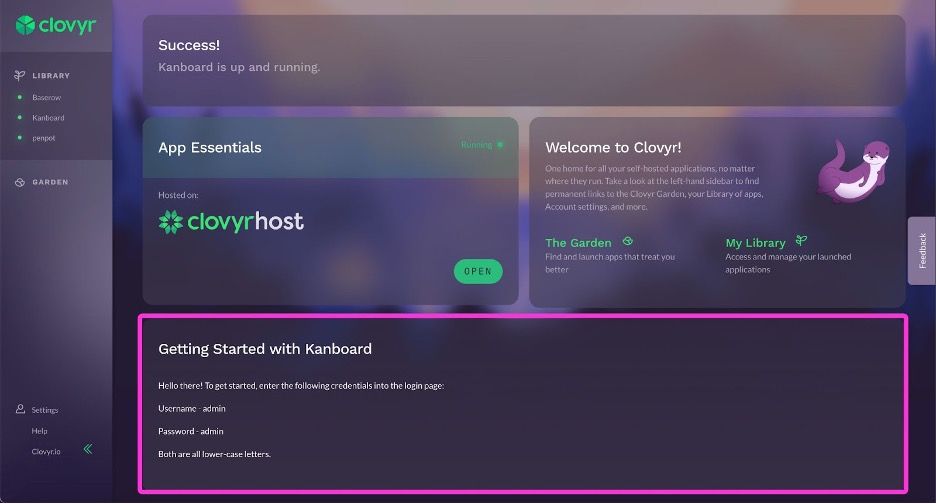 Conclusion
Congratulations on taking the first steps toward exploring the potential of Clovyr Garden, the browser-based app marketplace. By leveraging the power of self-hosting, data privacy, and seamless app launches, you can unlock new possibilities for your projects. Remember to utilize the customer support channels, community resources, and share your valuable feedback with us. Enjoy the journey with Clovyr Garden!