Ready to try Baserow? Get going in under a minute!
Spreadsheets and project management apps are essential to running a business smoothly. Most well-known spreadsheet software has a steep learning curve and limited ways to collaborate, while more customizable database applications can get complicated fast. Intuitive and team-oriented solutions are in demand.
In this piece, we'll compare two examples of web collaboration apps; one, Baserow, is an open-source, self-hostable option. The other, Airtable, is a high-profile commercial package for small businesses and enterprise clients.
Both apps make creation of workflows, internal applications, and data sheets easy, but each comes with its own benefits and drawbacks.
---
Baserow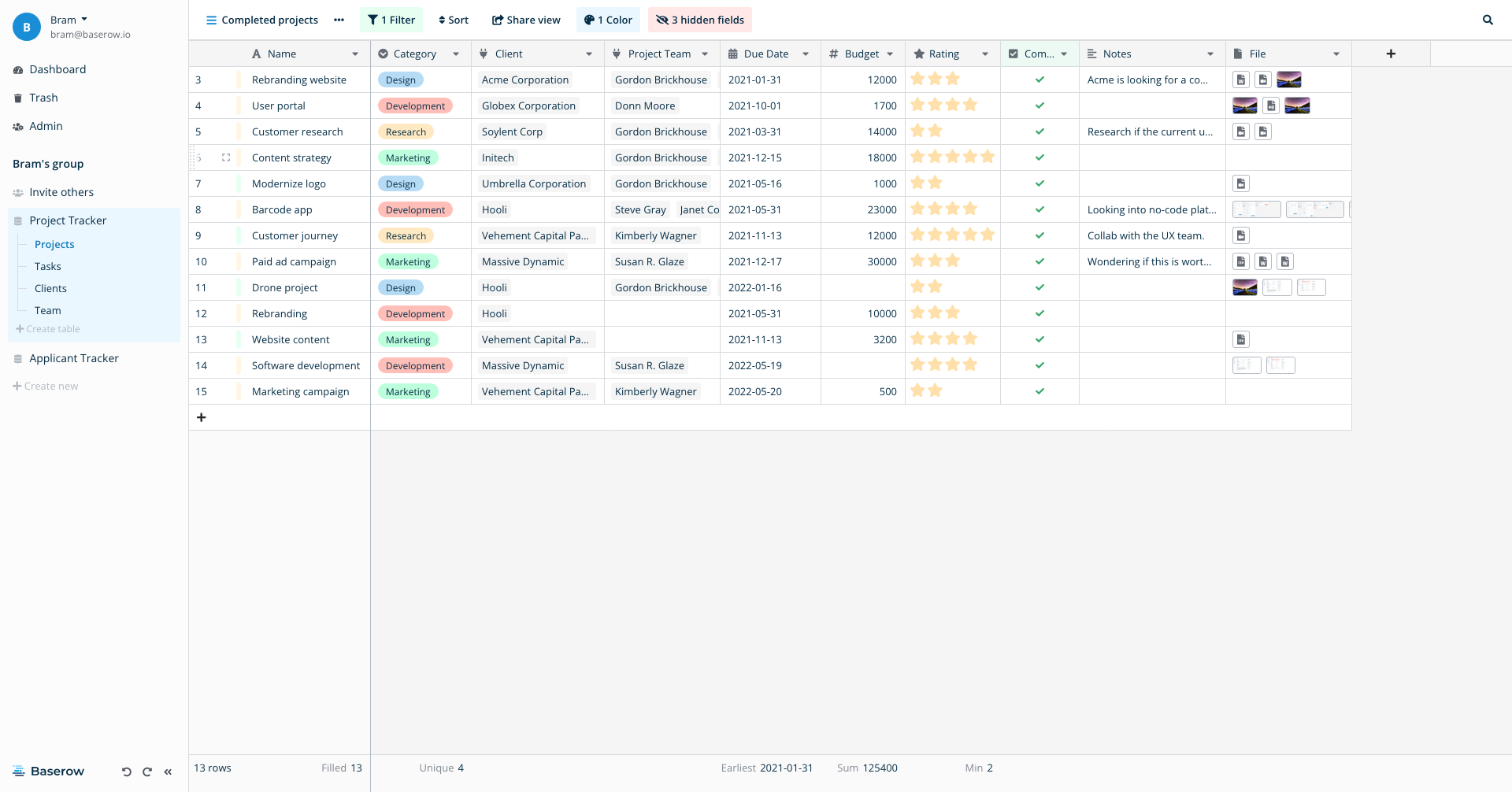 Baserow is a no-code database system that bills itself as an alternative to Airtable upfront.
Its website lists "customers, products, or airplanes" as information that it can sort and manage - so basically any data you can log in a table. If you can write a spreadsheet, it says, then you can make custom workflows for your team through Baserow.
This flexible software can handle almost any development need from a single interface. Baserow provides manual organization of its processes and sub-processes, which gives its users greater control over its projects.
Airtable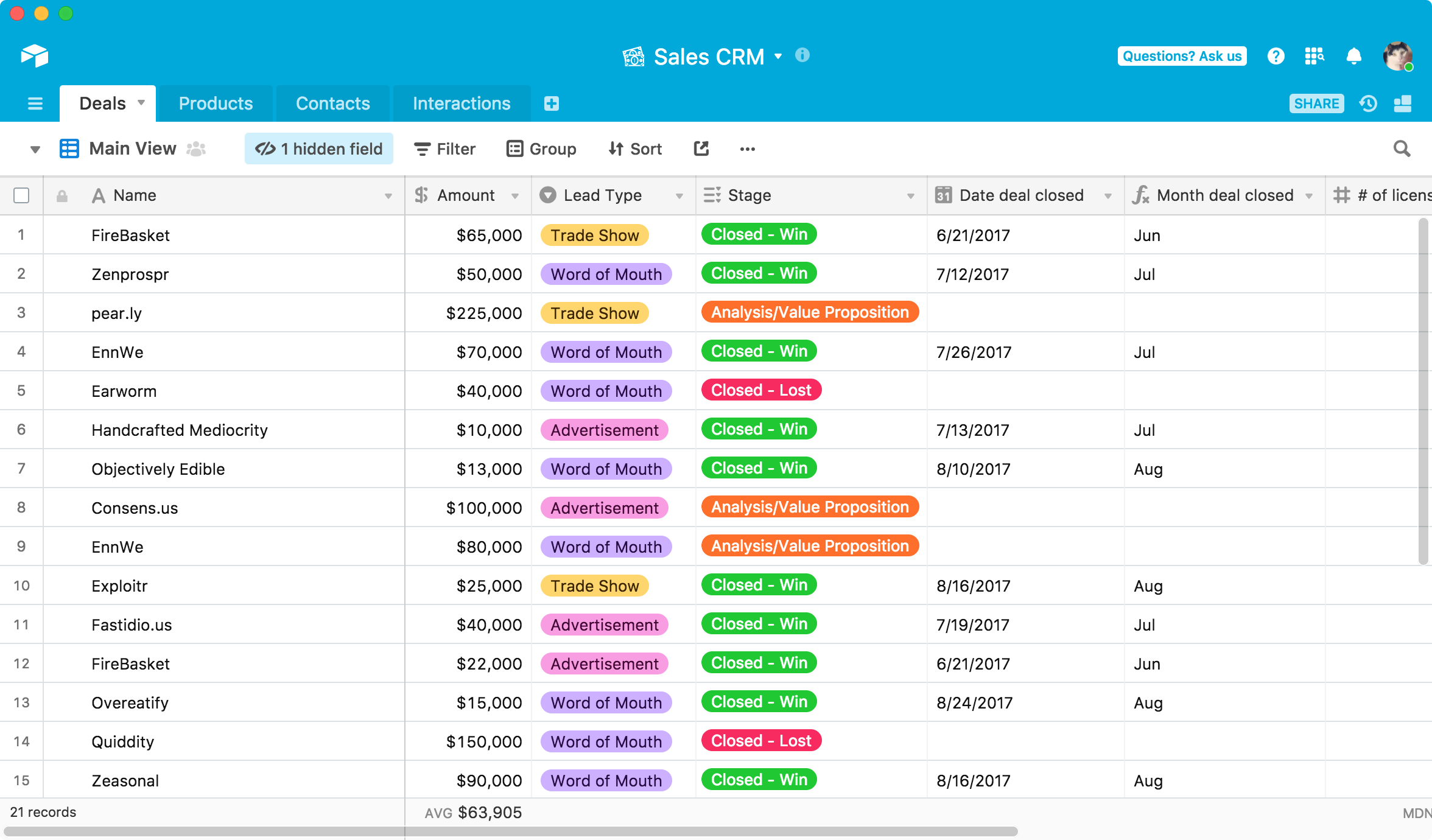 Airtable provides most of the same features as Baserow, but in a premium, high-rolling option that touts its pedigree and past client successes. Its site includes case studies and endorsements from big names.
While not necessarily a bad thing, Airtable puts who uses it rather than what it can do in the forefront, showing that growing their commercial business is their main priority.
Comparing Baserow and Airtable
Feature Comparison
| | Airtable | Baserow |
| --- | --- | --- |
| Format | Web based spreadsheet & workflow tool | Web based spreadsheet & workflow tool |
| Interface | Slick & modern, no-code & low-code | Slick & modern, no-code & low-code |
| Cost | Free to self host with unlimited projects, $5-$20/month per user for advanced features | Free for up to 5 users with limited data, $10-$20/month for more users and features |
| Flexibility | Limited developer APIs | Open-source, offers plugins and developer APIs |
| Privacy and Security | Data resides on Airtable servers; company-managed security updates | Data resides on user servers; company-coordinated security updates |
| Support | Company-provided, with premium access for paid tier users | Online resource center; community forums |
Format
Baserow is open-source, but don't let that scare you away. Open-source apps require less technical knowledge and in-depth configuration than most people assume. They can be just as easy to use as commercial solutions and can be even more accessible as they can be set up without creating accounts and entering credit cards on vendor sites before you know what you're getting.
Its lighter-weight codebase places fewer demands on hardware and bandwidth, and the customization value resultant from its open code means you can fit it to your precise needs and tweak it whenever necessary.
Airtable is closed-source and privately owned, so its customization options are much less specific and refined.
Interface
Both competitors are code-free app development tools designed for web collaboration.
Baserow user applications within a single interface, with a consistency that makes work easy. It also supports real-time development for web collaboration, which benefits remote workers and allows users to attract in-demand talent with that additional benefit.  
Both Baserow and Airtable operate in-browser, which makes development convenient and simple. They offer highly modular packages that can interface with third-party apps and expand alongside business needs. These connections include CRM options like social media and SMS, payment processors, and project management boards like Asana and Jira.
Both cite data consolidation and silo reduction as huge benefits of adoption. The third-party app integration automatically collects and sorts huge volumes of generated data for immediate use.
Neither claims the capacity to handle all business needs.
Cost
Baserow offers greater independence at a low cost. It offers a free plan to start and low-cost premium plans designed to scale with user needs.
Airtable offers several pricing levels, including a free option, like Baserow. Its premium packages are marginally pricier than Baserow's.
That said, Airtable has the pedigree to back up its success. Its clients include tech companies like Netflix and Spotify, plus non-tech household names like Levi's and Time, whom it leans on to demonstrate the industries and solutions it can support. But not all companies are multimillion-dollar corporations with high-level software needs.
Privacy & Security
Because Baserow is open-source, it can be self-hosted or hosted in the cloud. A self-hosted software system means DRM and security measures are less of a concern than with premium software.
Self-hosting is optimal for privacy and security since the products of the decentralized web conceal nothing about their operations or back-end processes. Users know exactly what they get when they run an open-source application. If, however, self-hosting is not of interest to you, Baserow also offers SaaS options on the baserow.io website.
Airtable's code is closed-source, which means it hosts the app centrally and ipso facto owns the data it houses.
Additional Resources
Both service providers include a large library of pre-existing content to streamline adoption, though Airtable has many more resources.
Airtable offers a major benefit for busy clients; including a package of diverse preexisting templates:
User research
Virtual events
Job applicants
CRM and marketing campaigns
Corporate organization
Airtable also provides catalog webinars, demos, and guides.
Which is right for me?
Baserow
Baserow is a great option if you are a dedicated developer, technical expert, or user with more specialized business needs. It provides more options and opportunities for users prepared to dig into the system and develop their own tools.
Skilled engineers can dig through Baserow's processes and create a custom solution that fits their employer's exact business needs—if the user base hasn't built an equivalent plugin already. Fortunately, its decentralized nature makes that very possible and saves time and effort on configuration.
In Baserow's case, less is more—fewer structures and more mutability result from its uncharted territory and flexible code.
Airtable
If you're a busy client with less technical expertise, Airtable might be worth the aggressive freemium price curve. We also recommend Airtable to clients who have the time to sift through pre-existing documentation.
The additional resources that Airtable provides, along with a massive library of non-technical documentation, may meet the needs of the non-developer app-maker audience that both products attract.
💡
Historically, the benefits of self-hosted software like Baserow have been limited to more tech-savvy teams. After all, someone needs to set up the server for the application, install it, and manage updates over time. That's no longer the case, now that Clovyr can setup and manage apps like Baserow lightning fast, no matter your or your team's technical skill level.
If you think Baserow is an interesting app, you can
try it right now with one click
. Love it? Keep the app running with Clovyr for a transparent, flat monthly fee or port it to your own cloud account for free.
---
About Clovyr
We believe a few, large tech companies have too much power and many tech startups make us pay for the convenience they offer with our private information. But it doesn't have to be that way, and we've never given up on the power of the internet as a force for good.
Clovyr is dedicated to building friendly, flexible tools that bring the usability of modern applications to decentralized ones. We prioritize privacy, security, and choice, without compromising convenience and user experience.