Web surveys are a valuable tool for gathering information about what people need, want, and like (or don't like). Whether it's getting reactions to a new product or feedback after an event, constant improvement requires constant audience sampling. Typeform and Formbricks are two apps that allow you to create surveys and forms for your website, share them with the world, and dig into the results.
While both Typeform and Formbricks deliver a simple experience for respondents, there are pronounced differences between the two, in both how forms are created and how responses are turned into actionable insights.
Here we discuss the most crucial differences between Typeform and Formbricks and help determine which one might be right for you.
---
Typeform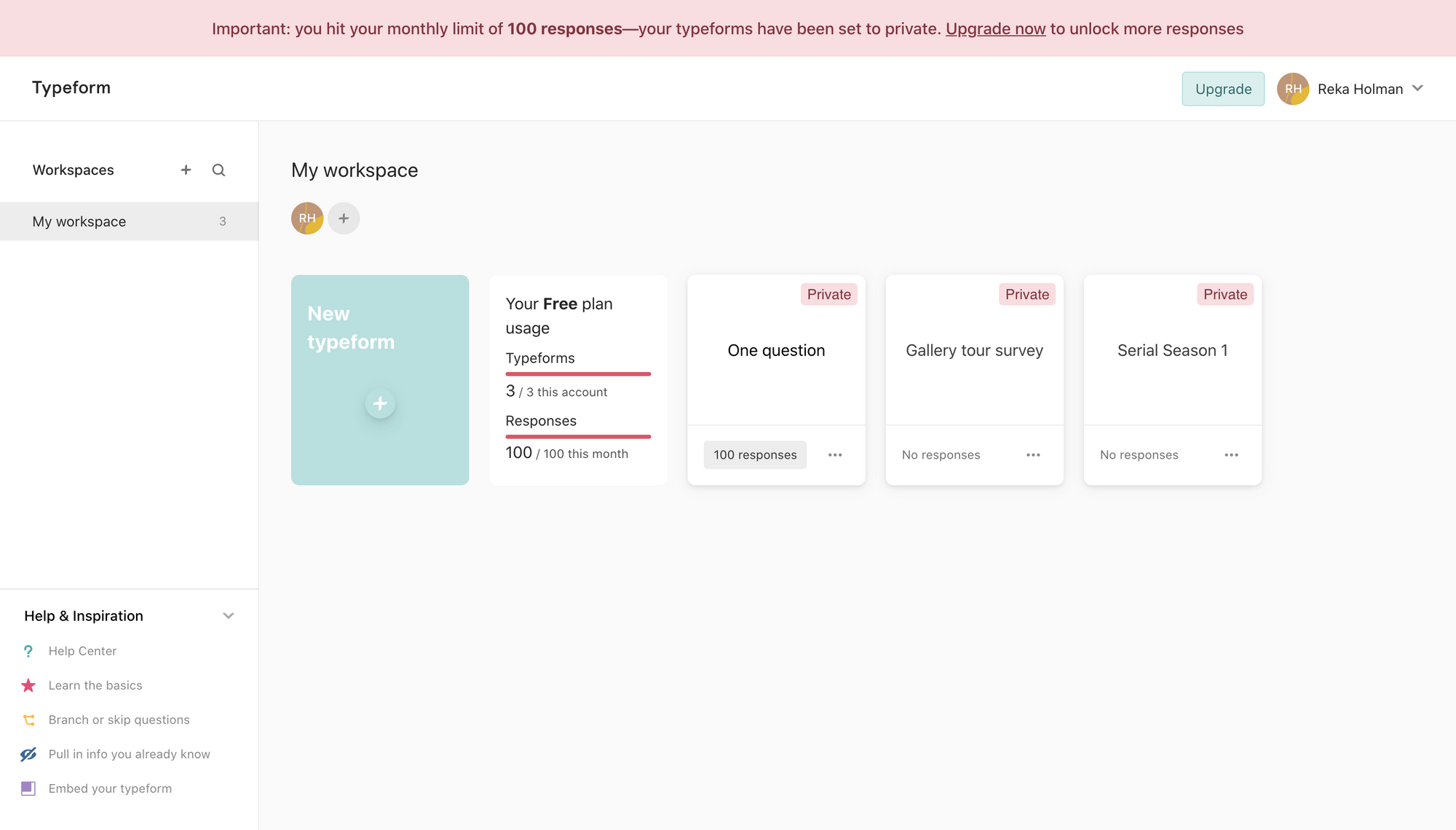 Typeform is a popular survey creator application, accessed via their website. Typeform is known for its interactive design and presents itself as a service that makes surveys feel like conversations, leading to higher completion rates than traditional platforms.
Part of Typeform's value proposition is its no-code interface that appeals to non-developers. Free plans are available, but only serve as a tutorial as many desired features require an upgraded plan and submissions are limited to 100 per month. Paid plans start at $25/month.
Typeform also offers a developer portal with APIs and an SDK.
Formbricks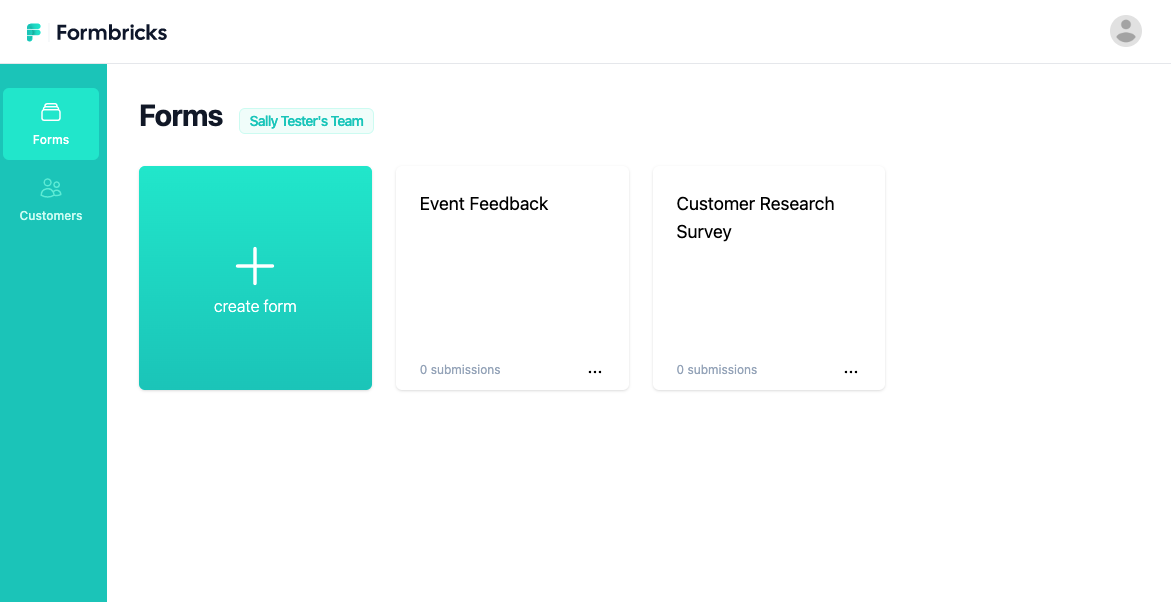 Formbricks is an open-source platform optimal for quickly creating custom forms and surveys in React or Vue. The service touts itself as a "home-cooked" solution for growing businesses needing modular designs. Having just entered beta as an evolution of the same team's prior code and no-code forms application, SnoopForms, some features are slick and new (like the developer experience) while some other features (like the no-code builder) are still under development and will be coming soon.
Formbricks is offered both as a "cloud" version, where signup is a similar process to Typeform and form submissions are stored on Formbrick's servers, as well as a self-hosted version, where form submissions are stored privately on the form-creator's server. In both cases, free submissions are limited to 500 per month and priced at just 1 cent per submission after that, with no monthly subscription fees.
Comparing Typeform and Formbricks
Feature Comparison
| | Typeform | Formbricks |
| --- | --- | --- |
| Format | No-code interface | Code interfaces, no-code coming soon |
| Style & Usabilty | Modern and intuitive | Modern and intuitive |
| Cost | $25/mo for 1 user and 100 form responses per month, up to $83/mo for 5 users and 10k responses per month | Free for up to 500 form responses per month, .01 per additional response |
| Flexibility | Limited developer API | API available and enhanceable; open-source code base with responsive development team |
| Privacy and Security | Data resides on Typeform servers; company-managed security updates | Data resides on user servers (for self-hosted plans); dev team coordinated security updates |
| Support | Company-provided, includes Help Center and Resource Guides | Community-provided, with weekly update summaries on the blog |
Format
Code and No-Code Interfaces
Creating a survey on TypeForm can be as easy as dragging and dropping from a menu of available graphics and other options, with no special tech skills required. Formbricks also plans to offer a no-code interface for users looking to make their survey quickly or prefer a more intuitive interface, though the current beta version focuses on a blazing fast, customizable developer experience for React and Vue programmers.
Coding your survey will enable you to decide how you pipe user data. Customizations can include how you want to categorize your data to how you want to analyze it.
Style & Usability
Modern and intuitive
Both Typeform and Formbricks have modern, simple, intuitive interfaces. Both tout strong developer experiences, though Formbricks has a simpler learning curve for existing React and Vue developers. Typeform's no-code templates offer expanded accessibility to non-coders. Both have libraries of templates for commonly used form types.
Cost
Freemium and Subscriptions
Because it's open source, Formbricks is free for the first 500 form reponses per month, and then $0.01 each after that. Typeform offers a freemium model where up to 100 responses per month are free (though several features are also disabled), and paid subscription plans begin at $25/month.
Of course, maintaining servers isn't free, so to use Formbricks for free, you'll have to host it and collect form submissions on your own servers. If this is a problem, Formbricks also provides cloud hosting at a rate of $0.01 per submission.
Flexibility
Open vs Closed Source
Several significant differences between these two services arise because Formbricks is open source.
Open source software can be downloaded and modified without requesting permission from the original creators, or (for most open source licenses) requiring any future sharing of the modifications you make. This gives teams more direct control over integrations with other software they use, and the possibility of contributing enhancements back to the community so that everyone can benefit.
A subscription license to a closed-source program is like renting. You don't own the software, you can't modify it, and if the company you're renting from cancels the service or goes out of business, you can abruptly lose access to the systems and data on which you depend. That said, Typeform has been around for quite some time and the premium price point means that the application has a larger dedicated team working on product updates.
Privacy and Security
If you self-host Formbricks, you will own your data, which implies that you can "fly through privacy compliance reviews," according to their website. Enterprises, especially, often need to comply with rigorous data standards like GDPR and CPPA, which are made much easier if fewer third party vendors hold user data.
Self-hosting is a common practice with open-source products, towards which there is a bigger push as part of the movement to decentralize the web. In the current state of the web, most websites and programs people rely on for their day-to-day lives and business are owned and managed by a few tech giants - this is called Software-as-a-Service (SaaS). Self-hosting applications reduces dependency on tech giants like Meta and Google by giving people control and ownership over their own software and data.
Support
Company provided and self-serve
As a company-owned service, Typeform has standard customer support channels that can be accessed through their customer portal, as well as self-serve Help Center, FAQ, and Resource Guide pages.
Formbricks has community-provided support channels, mainly via Discord, and includes weekly update summaries on their website blog. They also have extensive and approachable Developer Docs, making self-onboarding a snap.
Which is right for me?
Typeform
If you are part of a large company with little time or need to invest in customizing a surveys, Typeform is more suited to your needs. Its comes with a robust set of supported features and a extensive existing user base. It also comes with a heftier price tag, which is easier to justify with a larger budget.
Opt for standard form creation without customization if you're looking for Typeform. TypeForm is best suited to people with no interest in coding or niche needs.
Formbricks
Formbricks is ideal if you work for a team of engineers and are interested in making a form that works specifically for you. Formbricks is also suitable for you if you want peak privacy since it can be self-hosted rather than only centrally hosted by a large company that will have access your (aka your users') data.
If you're running a small company or solo business, Formbricks provides a much lower cost and direct ownership and control over the application. The benefits of Formbricks' open source model and the promise of increased features built on the strong legacy of SnoopForms make it the better choice for teams that are developer-heavy today, who will be adding non-coders who would like to make and manage forms as well, later on.
Formbricks is smaller than its SaaS counterparts, and some features are still in development. It's still growing, however, and may come to offer many of the same features as TypeForm in the future.
💡
Historically, the benefits of self-hosted software like Formbricks have been limited to more tech-savvy teams. After all, someone needs to set up the server for the application, install it, and manage updates over time. That's no longer the case, now that Clovyr can setup and manage apps like Kanboard lightning fast, no matter your or your team's technical skill level.
If you think Formbricks is an interesting app, you
can try it right now with one click
. Love it? Keep the app running with Clovyr for a transparent, flat monthly fee or port it to your own cloud account for free.
---
About Clovyr
We believe a few, large tech companies have too much power and many tech startups make us pay for the convenience they offer with our private information. But it doesn't have to be that way, and we've never given up on the power of the internet as a force for good.
Clovyr is dedicated to building friendly, flexible tools that bring the usability of modern applications to decentralized ones. We prioritize privacy, security, and choice, without compromising convenience and user experience.